Veteran Parking
Vehicles displaying Texas license plates issued by the Texas Department of Motor Vehicles, having a Disabled Veteran (DV) or eligible Meritorious Military Honors designation may receive complimentary parking at ABIA as listed below. Restrictions and limitations apply.
Blue Garage and Red Garage: Five (5) complimentary parking days on a space available basis; any days beyond five (5) will be charged at the posted garage rate. If you plan to park longer than 30 consecutive days, please email us using the contact form here.
Economy Parking: Complimentary parking for the duration of your stay. If you plan to park longer than 60 consecutive days, please email us using the contact form here.
Here is a sampling of acceptable license plates:
Disabled Veteran
Medal of Honor
Distinguished Service Cross
Distinguished Service Medal
Distinguished Flying Cross
Defense Distinguished Service Medal
Purple Heart
WWII Veteran
Defense Superior Service Medal
Legion of Merit
Silver Star
Bronze Star Medal
What to do at Express Credit Card Lanes
When using the Disabled Veteran Parking Program at an Express Credit Card Lane, push the service button to have an attendant validate your vehicle info and apply the Disabled Veteran Parking Discount. It is important to press and hold the Service Button until the machine starts to ring.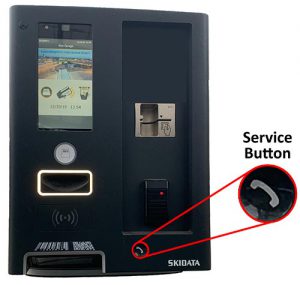 For questions about Disabled Veteran Parking or should you require assistance when parking at ABIA, please contact the parking office at 512-530-3300. Assistance is available 24 hours a day.
Disabled Veteran Complimentary Parking Restrictions
Please Note Complimentary Parking for disabled veterans or other Meritorious Military Honors designation is not applicable to Valet Parking, Hourly Parking, or Reservation Fees. The eligible license plate must be on the vehicle exiting the parking facility to receive complimentary parking. Temporary license plates are not accepted under the Disabled Veteran Parking Program. Vehicles occupying more than one space will be charged the daily maximum for each space used. The Disabled Veteran Parking Program is subject to change.
Airport employees who are parking for work purposes at Austin-Bergstrom International Airport may NOT use the Disabled Veteran Complimentary Parking Program. All airport employees including, but not limited to, terminal concessionaires and airline employees must sign up for Employee Monthly Parking if parking their vehicle at the Airport for work purposes. Airport employees must only use the designated Employee Parking area when reporting to work. For more info on AUS Employee Parking, please visit the Employee Parking page.
REFUNDS WILL NOT BE ISSUED IF YOU CHOOSE TO PAY AT THE EXIT AND DO NOT CALL AN ATTENDANT TO APPLY THE DISABLED VETERAN / MERITORIOUS SERVICE MEDAL DISCOUNT AT THE TIME OF EXIT.